I made this card today as my entry for this week's
Willow Sketchie Challenge
. The sketch this week was a little more trickier than last week's, as it had far more detail. Lisa from Willow Sketchie challenge also threw in a recipe along with her sketch, which was: 1. Add some shimmer/sparkle, 2. Add something floral and 3. Use something yellow. Hope you all like it. :

D
I've Been Bitten By The Love Bug Card
I used a red textured card as my base card, I also cut a wavy rectangle out of yellow card and a rectangle (which I cut bite marks out of) out of white card. And for the text element of the sketch I used a wooden Love heart embellishment.
For my image I used My Free Love Bug Digi Stamp, which I printed on white card and altered slightly in Photoshop, by colouring it's face black, lips red and putting an oval around it. Here I added my sparkle and shimmer element by colouring in the flower with a red shimmer marker and gluing red glitter onto the Love Bug's wing (I also covered myself, the table and the floor in glitter aswell... Lol). I then finished it off by colouring in the flower stem and belly with markers.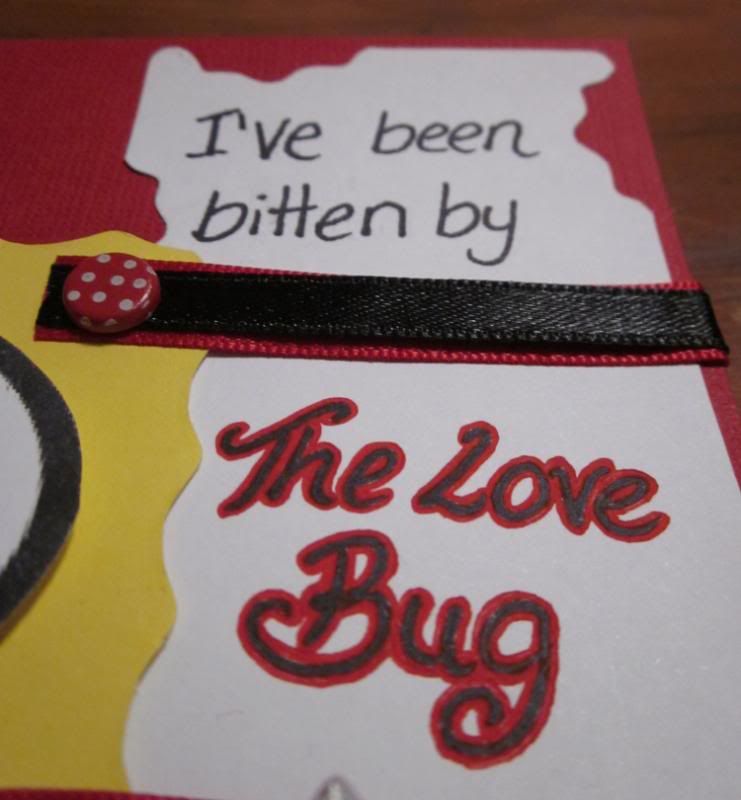 I wrote
on the white card using black and red markers. For the ribbon I used black and red satin ribbons. I glued the thinner black ribbon to the thicker red ribbon and attached it to the yellow card using white polka dotted red brads, and then glued it to the card itself.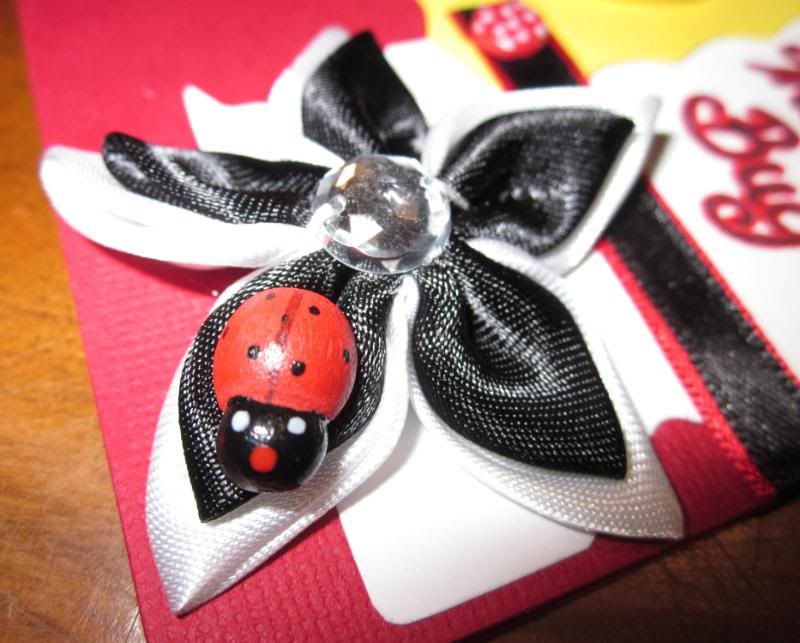 For the floral element of the recipe I used a Pre-made ribbon flower embellishment, which I then stuck a wooden lady bug embellishment to.
Once again I had a blast designing and creating this card and would like to thank Lisa from Willow Sketchie Challenge for
the sketch and recipe
.
Good luck to all that enter :D