I made this card tonight to enter into this weeks
Mojo Monday Sketch Challenge
. This is my first ever entry in a
Mojo Monday Challenge
, and I had a lot of fun designing and creating this card. I went with a pink and black theme, as I love those 2 colours together. Hope you all like it. :D
Pink And Black Birthday Card
To make this card I used a black textured card as my base card, and I used pink and black plain and patterned papers. I stitched 2 lines of black thread down the pink polka dot paper.
For the circle element I used a pink silk flower, and a Happy Birthday circle sentiment that I made and printed out on white card. I then cut the sentiment out and glued it to another piece of white card, when dry I repeated this process again to add strength as well as dimension. I then attached it to the flower using a white brad. Next using double sided tape I attached it to the card.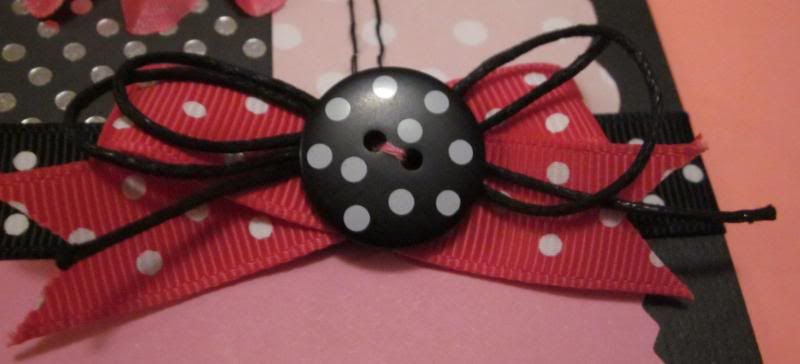 For the ribbon across the page I used a black and white polka dot ribbon. Using the same ribbon, but in pink, I made a bow by folding the ribbon over and stitching it in place. I then stitched the pink bow to the black ribbon. Next I made a loopy bow out of black cord, and stitched it to the pink bow. I then stitched a black and white polka dot button to the bows. Lastly I attached the ribbon to the card using double sided tape.
I enjoyed making this card a lot and would like to thank
Maria Gurnsey
for the great sketch. Good luck to all that enter.
:D