Here's my entry that I made tonight for this week's Willow Sketchie Challenge. Have been so busy lately that I decided to keep it relatively simple as I was running out of time to get it in. ;) This week as well as a fun sketch Hazel wanted to see snowflakes, so I decided to use them as my theme. Hope you all like it. :D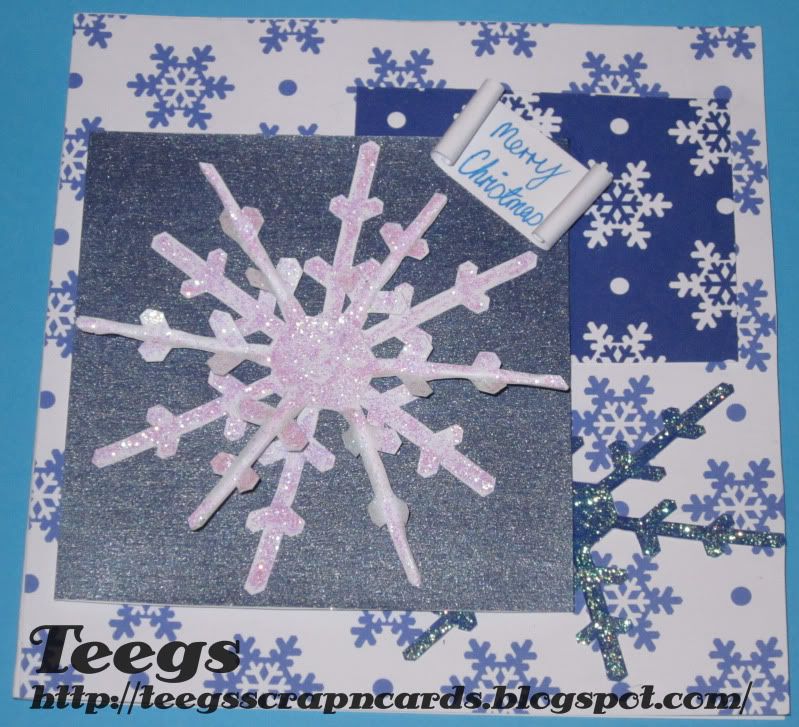 I used a white base card which I covered with a white and blue snowflake paper which I made. I then cut a rectangle (8cm x 6cm) out of a reversed colour blue and white snowflake paper I made, which I glued 2cm down on the right side of the card. Next I printed a blue snowflake out of Photoshop, cut around it and coated it in glitter glue. Once it was dry I glued it on a 45 degree angle below the rectangle.
To make the big snowflake I cut 2 snowflakes the same size out of white card and then coated them both in glitter glue. I then cut a square out of blue metallic paper (10 x 10cm) and glued it to a piece of white card the same size (to give it more strength). Once the glitter glue was dry I glued one of the snowflakes to the Metallic blue square. I then folded the 'arms' of the 2nd snowflake in half and flattened out the 'branches' off the arms. Next I glued the middle of the 2nd snowflake to the middle of the first on an offset angle. I then attached the square to the card using double sided foam tape. Lastly I made a little Merry Christmas sentiment by rolling in the ends of a small white card rectangle, I then wrote the text in freehand and glued it to the top right of the square.
This was a fun quick card to make and I would like to thank Hazel from Willow Sketchie Challenge for a great theme and sketch. Good luck to all that enter. :D