I made this card last night for my entry in this week's Willow Sketchie Challenge. Thought I may as well start on my Easter cards, as Easter will be here before I know it. Hope you all like it. :D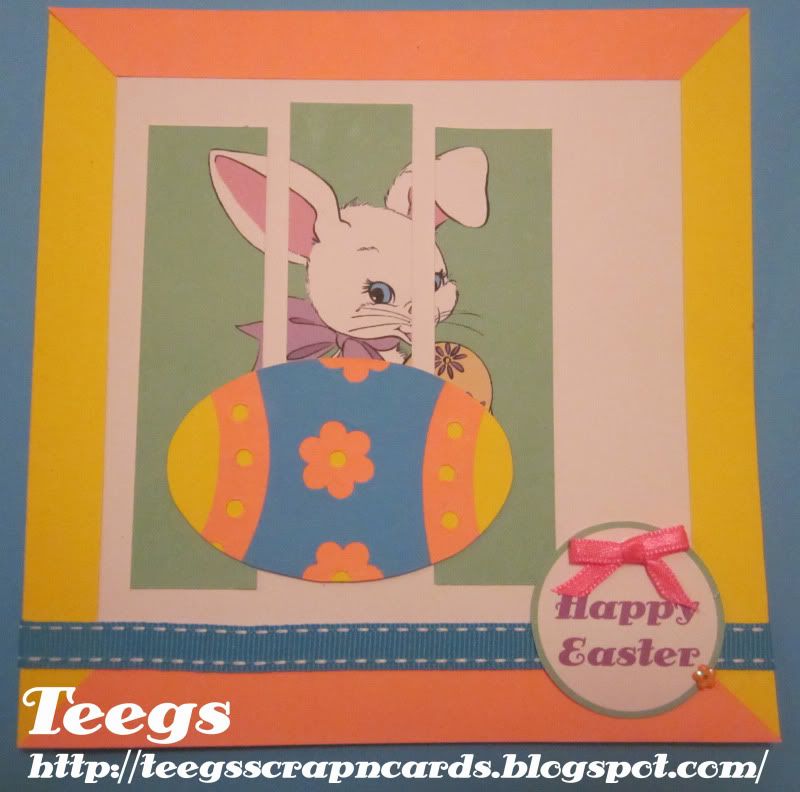 I used white card as my base card. I then cut four 1.5 x 15cm strips of pastel paper (2x Yellow and 2x Pink), I cut all the ends on a 45 degree angle and glued them around the edge of my card to make a border.
I used 2 image elements on this card, one being a paper pieced egg that I made and the other a colouring page which I found using Google Images. I coloured the colouring page in using Photoshop, printed it on white card and then trimmed around it. I then cut 2.5cm strips off either side, leaving the middle strip 3.5cm, I then cut 0.5cm off either side of the middle strip. Next I cut 0.5cm off the top of the 2 outside strips and 0.5cm off the bottom of the middle strip. I then glued the strips to my card.
To make the paper pieced egg I made an oval template out of white card (as I don't have a cutter yet, but am getting one soon :D ), I then traced it onto yellow, pink and blue paper and cut out the 3 egg shapes. Using the long side of the oval template I then marked and cut off the ends of the pink and blue eggs (leaving the pink longer than the blue). I glued the yellow egg to the template for strength. Then using a flower shaped punch I punched 3 flowers down the middle of the blue egg and then glued it to the pink egg. Next using a small hole punch I punched around the edges of the pink egg and the center out of the flowers, I then glued it to the yellow egg.
I then glued it to my card on top of the other image.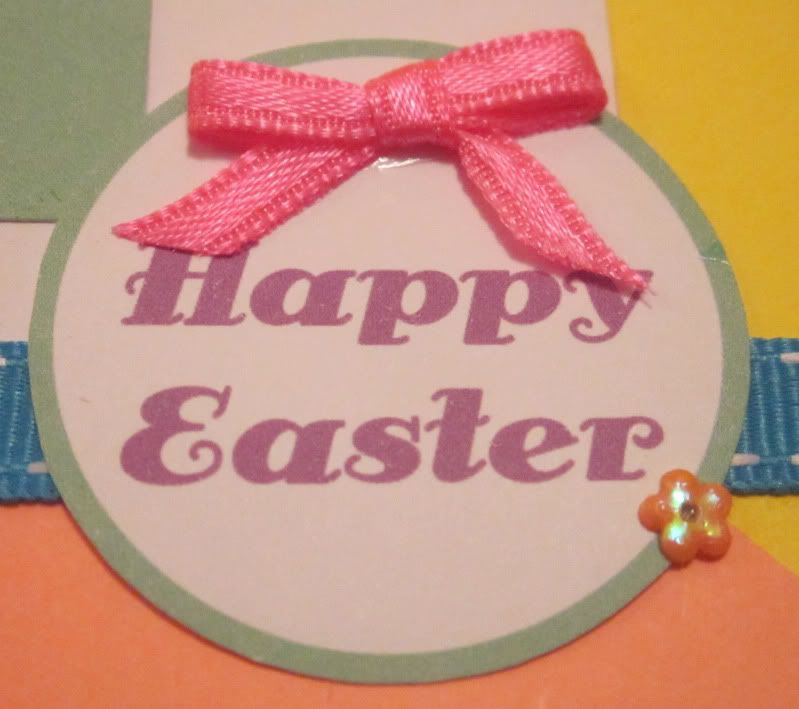 I glued a blue ribbon across the bottom of my card. I then made a "Happy Easter" sentiment in Photoshop, printed it on white card, trimmed around it and attached it to the bottom right corner of my card. I made and glued a little pink ribbon to the top of my sentiment. Lastly I glued a little orange flower sequin to the bottom right of my sentiment.
I had so much fun creating this card and I would like to thank Kelly from Willow Sketchie Challenge for a great sketch. Good luck to all that enter. :D