I got my Craft Robo last Friday, and have been playing with it all week, downloading templates, getting used to the settings, program and even the cutting itself. So I thought seeing as I have had several plays with it using scrap paper, it was time to make a card using it. And what better card to make with it than my entry in this week's Willow Sketchie Challenge. Hope you all like it. :D
Fun In The Rain Birthday Card
I used white card for my base card, which I then covered with a glittered multi-coloured patterned paper. Then using my Craft Robo I cut out a patterned 10 x 10cm square out of blue patterned paper, and a plain 10 x 10cm square out of purple paper. I then glued the blue square to the purple square.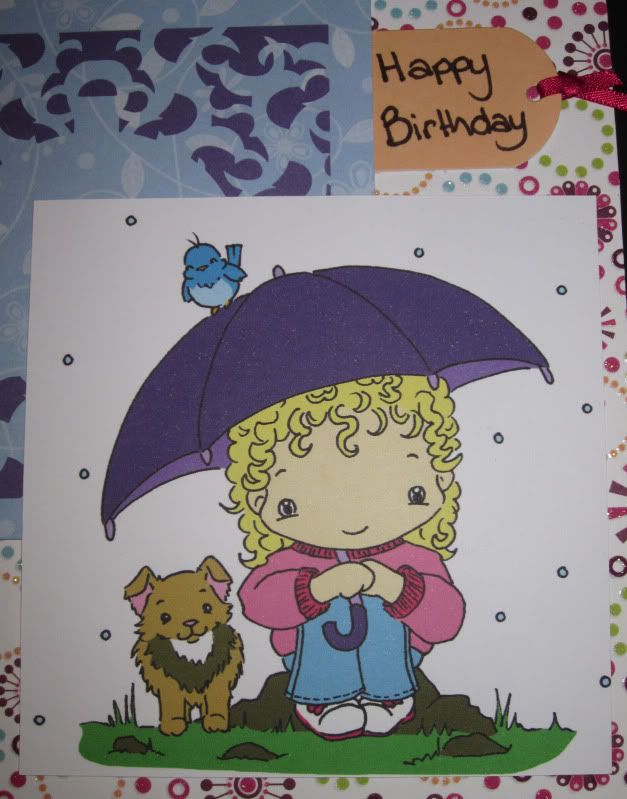 I coloured in a free
Sliekje Just Cute Digi Stamp
in Photoshop, printed it on white card and trimmed it to a square. I then wrote "Happy Birthday" on a pre-cut orange tag and tied a pink ribbon through the hole in the tag. I attached the end of the tag to the back of my purple and blue square using double sided tape. Next I attached the purple and blue square to the top left corner of my card, and the digi to the bottom right corner. Lastly I punched 3 holes across the bottom left of my card and set 3 large black eyelets in them.
I enjoyed using my Craft Robo to make this card and I would like to thank Claire from Willow Sketchie Challenge for her fantastic sketch. Good luck to all that enter. :D