Thought that seeing as I got my entry for this week's Willow Sketchie Challenge in early that I would make another one. Hope you all like it. :D
Kitty Tunes Birthday Card
I used white card for my base card, which I covered with a glitter multi-coloured patterned paper.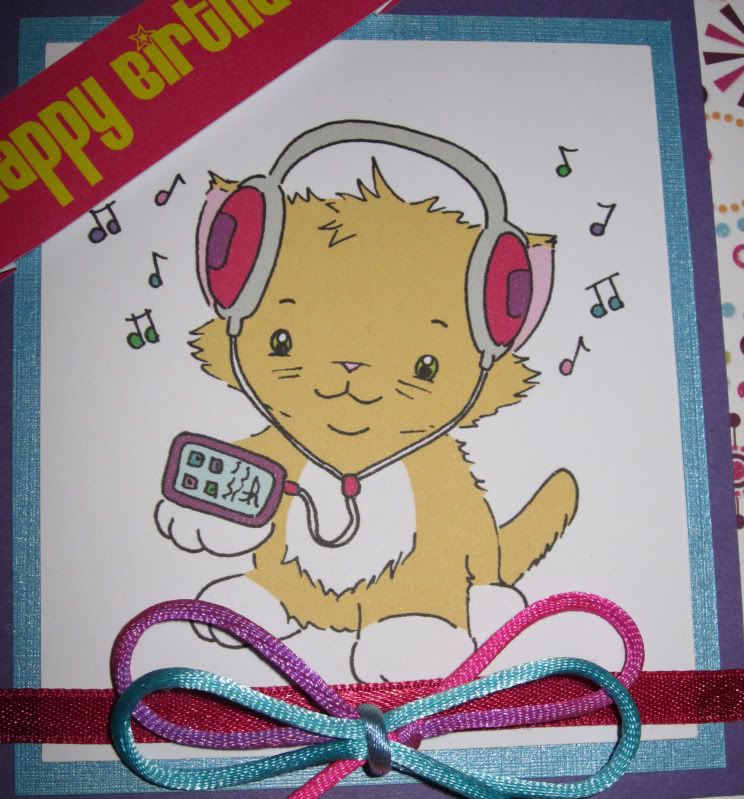 I coloured in a free
Sliekje Music Kitten Digi Stamp
in Photoshop, printed it on white card and then trimmed it to a rectangle. I then matted it to blue metallic textured paper, which I then matted to purple paper. I then attached it to the center of my card. Next I made the sentiment by printing out on white card a long strip of pink with yellow "Happy Birthday" text in the middle, I then folded the ends to create a banner and trimmed off the excess. I attached my banner sentiment to the top left of my digi with double sided foam tape. I then attached a raspberry satin ribbon across my card towards the bottom of my digi. Lastly I made a double bow out of multi-coloured cord and glued it to the center of the ribbon.
This card was a load of fun to make and I would once again like to thank Lisa from Willow Sketchie Challenge for her fantastic sketch. Good luck to all that enter. :D