Finally got around to making my entry for this week's Willow Sketchie Challenge. Has been a busy last few days for us, as we had to move my Boyfriend out of his Mother's house into my Parent's house with me. He helped me move some of his boxes so I could get to my craft stuff and make my card tonight. Hope you all like it. :D
Shoe Of Purple Roses Birthday Card
I used white card for my base card, which I covered with a purple glittered patterned cardstock. I then cut a square out of pink patterned paper. I cut a rectangle out of black glitter patterned cardstock and used a 3 heart rounded corner punch on the corners, I then attached it towards the bottom of my card. I cut a triangle out of pink patterned paper and attached it to the bottom left corner. I then glued a raspberry satin bow to the triangle.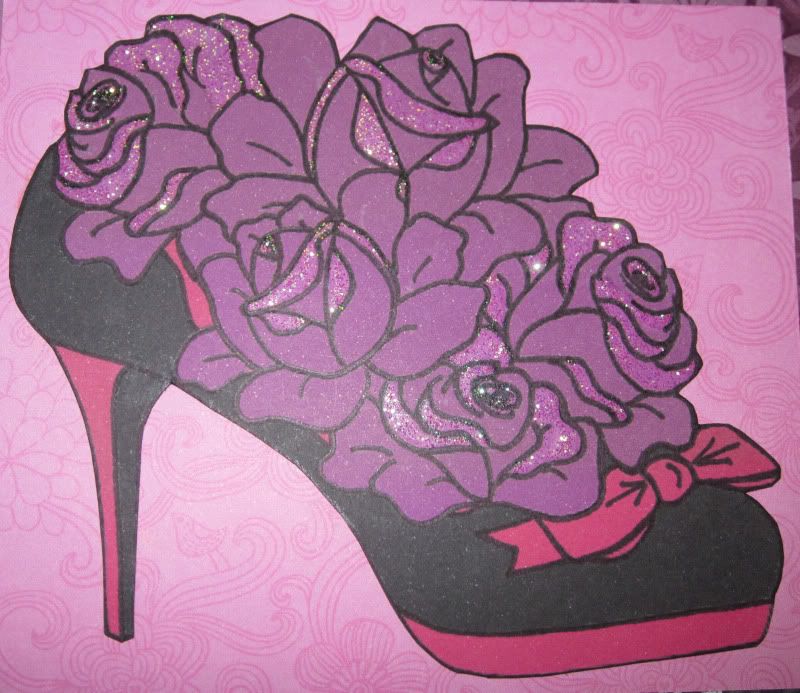 I coloured in a free
Beary Wishes Butterfly and Roses Digi Stamp
in Photoshop, printed it on white card and trimmed around the shoe and roses part of the digi only. I then glued it to the center of the pink patterned square. Next I applied glitter glue to the roses and set aside to dry. Once dry I attached the image towards the top of my card. I then cut the back off 3 metallic pink brads and glued them down the top right side of my card. Lastly I used my labeler and pink metallic label tape to make the "Happy Birthday" sentiment, which I then attached to the black glitter patterned rectangle.
I was very pleased with how this card turned out and I would like to thank Anne-Marie from Willow Sketchie Challenge for a fantastic sketch. Good luck to all that enter. :D