I made this card last night for my entry in this week's
Willow Sketchie Challenge
. I came across a whole heap of paper flowers that I had forgot I had bought and thought that I would use them to create my card. Hope you all like it.
:D
I used white card for my base card. I then cut a square (1cm smaller than the card itself) out of a blue floral patterned paper and attached it to the center of my card. I then attached a purple ribbon across the center of the card. Next I cut 2 rectangles (one slightly smaller then the other) out of a multi-cloured leaf patterned paper, matted them with purple paper and attached them to the card.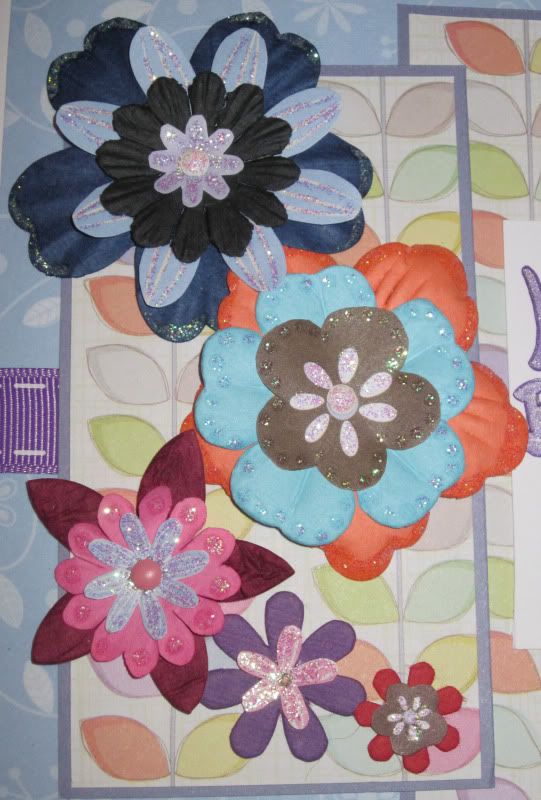 I then applied glitter glue to a variety of paper flowers (I also used flowers off a flower patterned paper) and left them to dry. Whilst they were drying I made a "Happy Birthday To You" sentiment by writing the text freehand on a piece of white card using a purple metallic marker, I then went around the text with a purple gel pen and attached it to the center of the larger rectangle. Once the paper flowers were dry I layered them on top of each other and secured with a brad (or for the smaller ones I just glued them in place), I then attached them to the smaller rectangle on the card. I applied glitter glue to 2 of the brads that were holding the flowers too. Lastly I glued a purple diamonte flower on to a pre-made purple glitter flower embellishment, which I then attached to the top right of my sentiment.
Even though I was covered in glitter by the end, I had fun making this card and would like to thank Kelly from Willow Sketchie Challenge for a great sketch and recipe. Good luck to all that enter. :D