Here's the card I made tonight for my entry in this week's Willow Sketchie Challenge. It was a quick card, as once again I was running out of time to make the deadline. ;) I decided to go with a Christmas theme this time. Hope you all like it. :D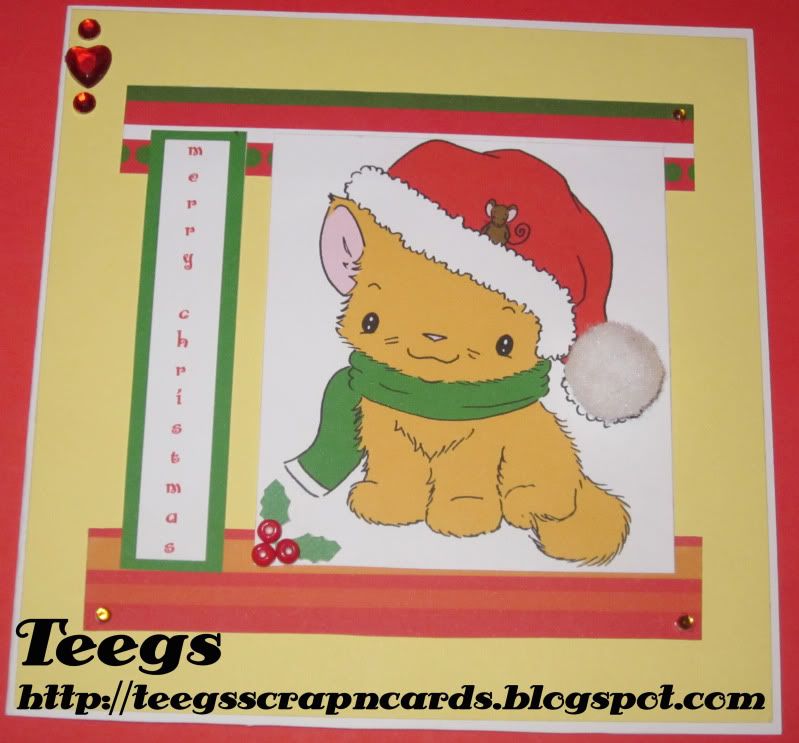 I used a plain white card as my base card. I cut a square slightly smaller than my base card out of pale yellow card, and glued it to the center of my card. I then made a "Merry Christmas" sentiment with a green border in Photoshop which I printed on white card. I coloured in a Free Sliekje Digi Stamp in Photoshop and printed it on white card as well. I cut 2 rectangles (2 x 12cm) out of striped paper and glued the top of the sentiment to one and the bottom to the other and then repeated for the digi. I then glued this in the center of the card. I glued 2 red circle diamontes to the top left of the card with a red heart diamonte in between them. I then glued 3 small gold diamontes to 3 corners of the striped paper rectangles. I then glued a white pom pom onto the end of the digi's Christmas hat.
Lastly I made some holly out of 2 leaves which I cut out of green textured paper and 3 red beads. I glued each piece to the bottom left corner of the digi.
It was a fun quick card to make and I would like to thank Shell from Willow Sketchie Challenge for a great sketch. Good luck to all than enter. :D