Cutting it very close for this entry I know, but I have been very sick with Tonsilitis and haven't been able to craft. :( Anyway finally got it done, so here's my entry in this week's
The Crafty Bloggers Network
sketch challenge. Hope you all like it. :D
Merry Christmas Reindeer Card
I used a white card as my base card. I then cut 2 squares (6.5 x 6.5cm) out of red and white polka dot paper and another 2 out of a free candy cane striped paper from
Free Digital Scrapbooking
. I then glued them to the middle of the card to form a square. Next I attached a red Christmas themed ribbon across the middle of the card. I then cut a square (11 x 11cm) out of a free green swirl paper from
Free Digital Scrapbooking
. I cut a slightly smaller square (10 x 10cm) out of white card and glued it to the green square. I then pierced all around the white card using my

single Cutter Bee Bug and threaded thin silver cord through it. I then attached the squares to the card using double sided foam tape.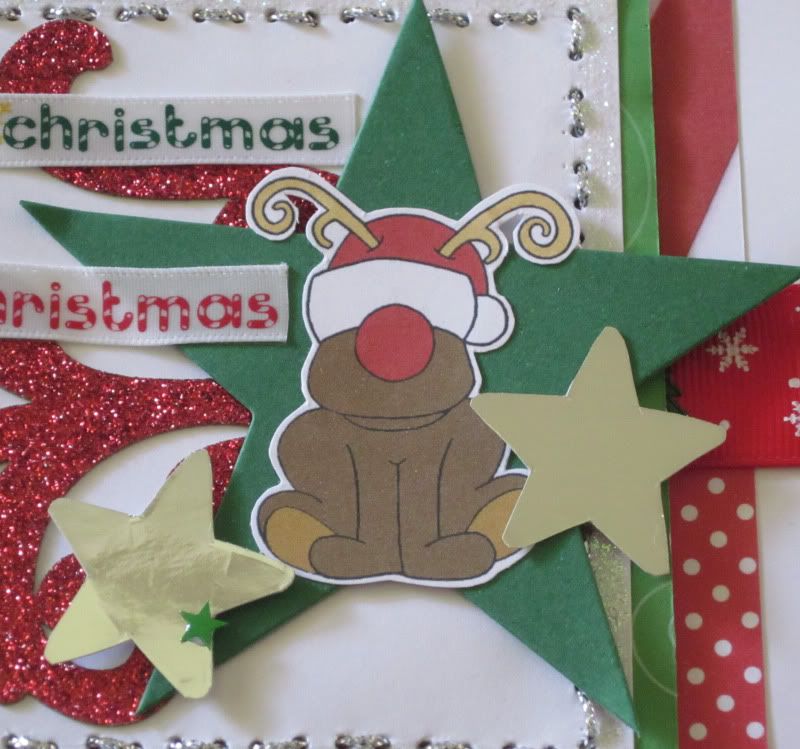 For the flourishes I used a glitter sticker pack I found at a bargain store. I coloured in my Free Reindeer Digi Stamp using Photoshop, printed it on white card and trimmed around it. I then glued it to a die cut green star, and glued the star to the card as well. I then cut 2 medium stars out of silver foil card and glued them to the card on either side of the big green star. Next I stuck a green glitter star to the silver star on the left. Lastly I cut 2 pieces of Merry Christmas ribbon and glued them across the left side of the green and white square.
Apart from being sick I did enjoy making this card,
and I would like to thank the DT at The Crafty Bloggers Network for another great challenge. Good luck to all that enter. :D