This is the card that I made tonight for my entry in the
Polka Doodles
White Out Challenge. This is the first Polka Doodles challenge I have entered, and I would like to say thank you to my good friend Donna for sending me the link. :-* Is also the first non sketch challenge I have done. Hope you all like it. :D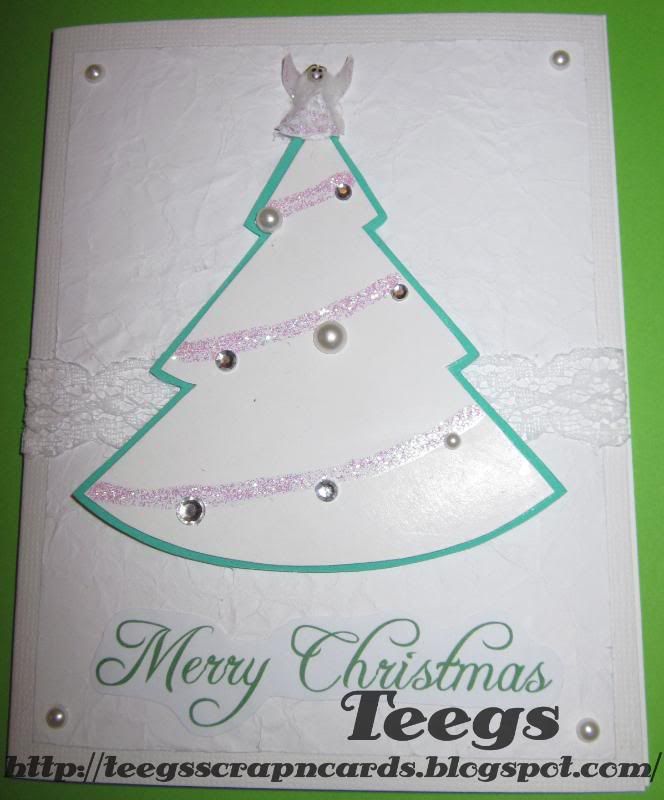 I used a white textured card as my base card. I cut a rectangle 1cm smaller than the card out of A4 printer paper, which I then scrunched up several times, then smoothed out and flattened under a book. This gave my paper a scrunched effect, I then glued it onto the white base card. I glued a piece of lace approximately 1/2 the way down and across the card. I then stuck a stick on pearl to each corner of the white scrunched rectangle. I made a green "Merry Christmas" sentiment, which I glued to the bottom of the scrunched paper.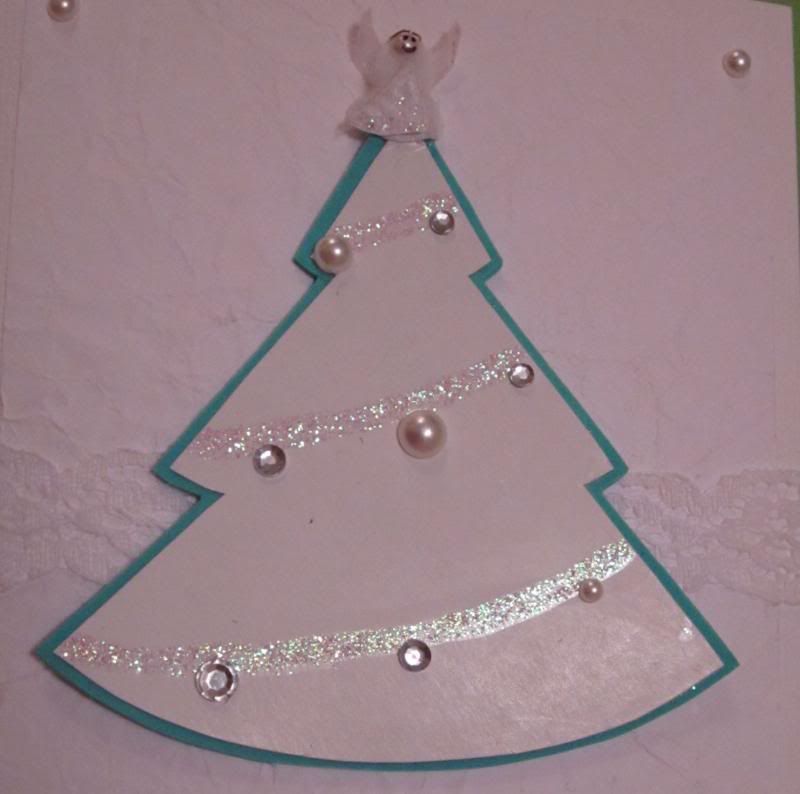 To make the tree I first drew a rough sketch of it on a scrap piece of paper, I then cut it out of green craft foam. I then traced around the foam tree onto a piece of white card, and cut it out. I then trimmed a couple of millimeters off all the edges of the white card tree, so that it was slightly smaller than the foam tree. Next I glued the white card tree to the center of the foam tree. I then applied glitter glue to the tree (to give the impression of tinsel) and stuck on some sticky diamonties and pearls (For baubles). I then made an angel for the top of the tree...
First I cut a semi-circle out of A4 printer paper, and covered it in lace. I then rolled it over to create a cone shape and glued it together. I used cotton wool for her hair, which I stuck a stick on pearl to for her face. Next I stuck the back of her hair to the back of her cone body. I then drew a face on the pearl using a black marker. Next I made a little halo out of beading wire and stuck it to the top of her head. I then cut her wings out of vellum, and applied glitter glue around the edges as well as to her lace dress. Once dry I glued the wings to her back and then glued her to the top of the tree. I then glued the tree to the card.
I had so much fun making the tree and angel, and I would like to thank Enfys from
Polka Doodles
for a fun challenge. Good luck to all that enter.
:D